Re-energising Housing: Future Ambitions for New Models of Housing
60
60 people viewed this event.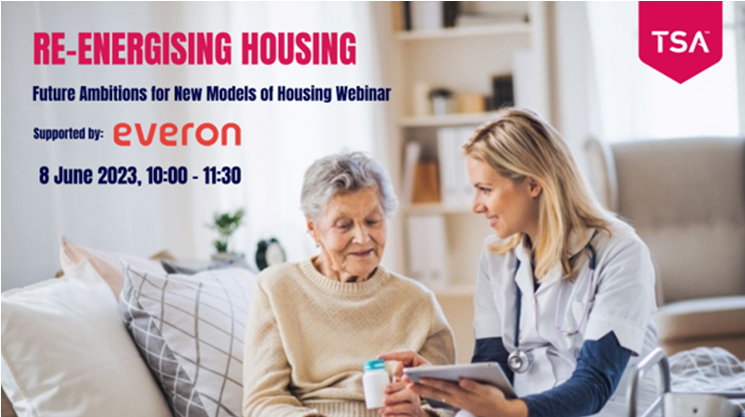 Join us for an exclusive and transformative webinar, "Re-energising Housing: Future Ambitions for New Models of Housing," supported by Everon UK. In this engaging 90-minute session, we'll explore how the incorporation of modern technology-enabled care solutions can revolutionise the housing sector and improve people's lives.
Within the session, we'll delve into the urgent need for a proactive approach in the housing industry. We'll examine how the integration of proactive TEC in housing can contribute to a more sustainable, accessible, and supportive living environment for the people who need it most. We will include the latest insights from the Technology for our Ageing Population: Panel for Innovation (TAPPI) project, which will highlight the importance of collaboration, co-production, and the power of partnerships in TEC in the ever-changing housing landscape. Also, during the webinar, we'll showcase a successful client transformation story, highlighting how the implementation of digital technologies has revolutionised their TEC approach in housing.
Learn valuable insights into the strategies and tools that have paved the way for more efficient, responsive, and future-proofed TEC systems. Finally, we will also be hosting a riveting panel discussion with experts, to address the current challenges faced by housing providers, including funding, procurement, and the digital shift. Through an interactive panel session, we'll uncover the most pressing issues in the industry and discuss potential solutions to overcome these obstacles.
Engage in thought-provoking conversations with industry leaders and gain a comprehensive understanding of the complex challenges and opportunities that lie ahead.
Don't miss this opportunity to be part of the conversation shaping the future of technology-enabled care within housing. We look forward to seeing you on this webinar.
Click here to register now.